I am proud to report that Bug is still diligently working on his Spanish speaking skills. He's really been growing like crazy, and is becoming more and more proficient. This fall, we've been using Middlebury Interactive Languages Elementary Spanish 1 program for grades 3-5, and I have seen awesome results with it.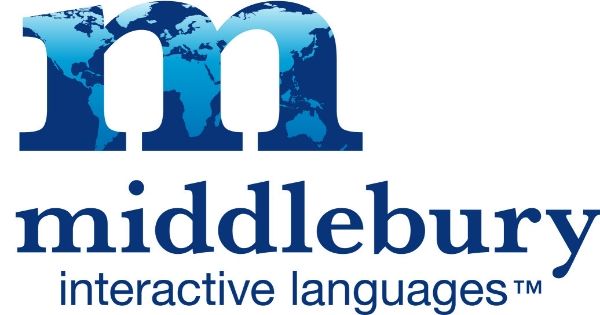 How does Middlebury Interactive Languages Work?
Middlebury Interactive Languages has a (you guessed it) interactive online platform for your child to complete their language studies independently. Once you are registered for the course, all you need to do as the teacher is watch your kiddo sign in, and check the grade book when they are done.
Content is delivered through short, colorful, animated videos based on folk tales. The course itself has an immersion feel to it, there will be plenty of exposure to words, vocabulary and sentence structure that is not explicitly taught. However, the videos are easy to follow, so your child will still be able to work out what is happening in the story, and pick up on the target vocabulary (which is highlighted in the image above).
In addition to the videos are flashcard-like activities to practice the vocabulary, multiple choice questions, interactive activities, and my favorite part of the program, speaking labs.

With a microphone, your student can actually listen to the vocabulary, and then record themselves saying the words and phrases. The program doesn't automatically give feedback on the spoken portions, but they are saved for you to check them manually on the grade book page.
This program automatically grades your student's work, so it is easy for you to keep track of their progress, even if you don't sit in on the lessons.
Not only can you see the grades given for assignments and quizzes, you can view the completed assignment, see the answers given, and even hear the spoken answers your child recorded into the class. You can export the grade book in a .csv file to save and print for your records.
What material is covered in the first semester of Elementary Spanish 1 for Grades 3-5?
This semester contains 46 lessons (which includes one introduction lesson, and three course review lessons) which is recommended to be completed at a pace of 3 lessons a week. This means you would complete the course in about 15 weeks. When you purchase the course, you are given access for 6 months, so if something comes up, or you take a couple days off, you still have plenty of time to cover all the course content.
The first semester contains 6 lessons in each of these topics:
Family
Numbers
Greetings
Adjectives/Feelings
Food
Community/Professions
Body
Review
Along with the basic vocabulary covered, simple phrases used in basic conversation are taught. There are also lessons including folk stories, cultural and tradition.
Bug's Experience
Bug has had quite a bit of Spanish exposure, so he ended up using this course more often than the recommended 3 lessons a week. For most of the review period, he used this course 5 days a week, and because of that, will complete it much sooner than the recommended semester.
Each morning, this is the program Bug asks to complete first. He loves the animated videos, and really likes recording himself and listening to the recordings of him saying the phrases.
I always ask his feedback when deciding if the programs we are reviewing will make the "final cut" and continue to be a part of our homeschool day once we are finished reviewing them, and this is one of the programs that he LOVES and absolutely wants to complete in its entirety.
My Thoughts
I love the format of Middlebury Interactive Languages. We have tried so many online language programs with Bug, but so many of them just don't seem to be set up for a child's use. They either rely too much on written text, or too much on graphics, or don't include enough speaking practice. This course on the other hand is a wonderful balance of all of those things, and it has the added element of being story based and user friendly. This is by far the best online program I have seen for kids in the elementary age range, and I am optimistic about the higher levels as well.
I do, however, wish there was more. Bug did use this program at an accelerated pace, and he did have Spanish experience before starting it, so to be fair, those things factor into my next thought- but I feel like many of the lessons passed by too quickly, and there could have been more practice, more content, and more depth for students in the third to fifth grade. I didn't see any place for him to need to write in the vocabulary, and I feel that grade level can and should be expected to begin to compose simple sentences and phrases in the target language.
The only other downside of this program is that by it's nature, there isn't conversational practice. When learning a language, it is hard to achieve fluency without the ability to converse and interact with a native speaker. This program will help your child master vocabulary, but the ability to think on your feet and respond with the correct vocabulary quickly will require additional practice.
There is still plenty of room for Bug to grow with this program, and there are many more levels above and beyond what he is doing now. The format and content of this program has been a huge hit in our home, and I am extremely impressed with it. We currently pair it with a live tutor, which adds the missing element of conversational practice, and it's been a huge help. Another way to remedy the missing conversation would be for you as a parent to plan on looking at the vocabulary, and practice the basic conversation with your child outside of their computer time.
[taq_review]
Purchasing Information:
For this review, I was given access to the first semester of Elementary Spanish 1 course for grades 3-5, which retails for $119.
Something for Everyone!
This company offers so much more than just elementary Spanish. They also have courses in French, Chinese and German (I KNOW, awesome, right?) for all grades, including high school advanced placement courses.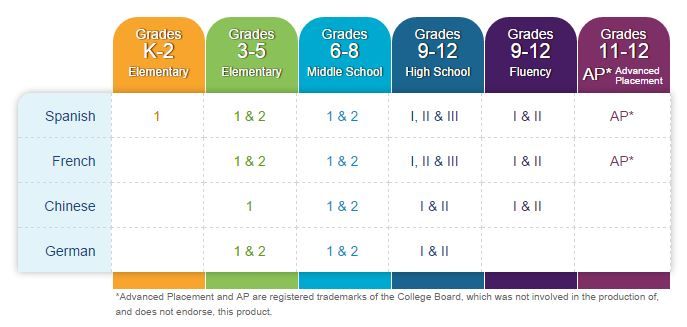 If you want to learn more about these other courses, I really hope you click the crew banner below to see the other 69 reviews of this program. Between the group of us, you should be able to find a review of almost all the languages and levels mentioned above, so check it out!