I am excited to review Middlebury Interactive Languages for you (again)! Last year, Bug had the pleasure of using their Spanish for grades 3-5 (first semester) and this year, Bug has been working on Middle School Spanish Year One with Middlebury.
This language program is entirely online, and is, hands-down, the best independent computer-based language program I have seen on the market. They offer courses in Spanish, French, German and Chinese for kids in Kindergarten through AP level high school courses.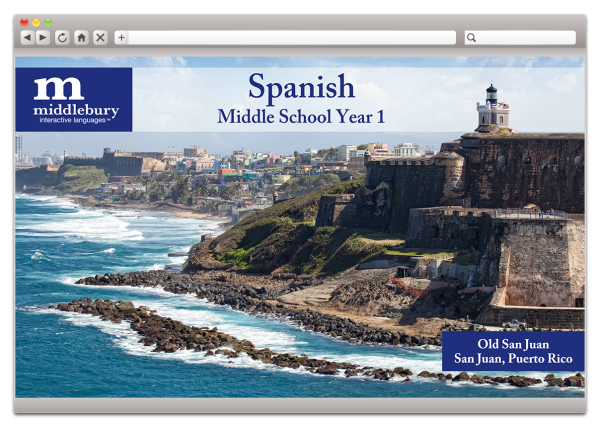 What is Included?
This program is offered completely online- so you will need a fast internet connection. All the practice, the writing, everything is done on the computer. The format is easy to follow, with a daily checklist for your child down the left-hand side of the screen. A lesson takes about 30 minutes for Bug to complete, and includes everything from listening to speaking to reading.
Middle School Spanish I covers:
Greetings
School
Alphabet
Numbers
Descriptions
Colors
Telling Time
Verbs
Hobbies
Food
Family
Places
Animals
Shopping
Weather
This is not a simple vocabulary based program. Middlebury also includes solid grammar instruction, lessons in culture and history, and is a solid foundation in Spanish.
Our Thoughts
Bug has been studying Spanish for a couple years now in one way or another. He has worked with tutors and used many programs, so I was comfortable putting him in the middle school course despite not yet turning 10. He's a very mature and organized child, and has done well so far with the curriculum and format.
When we reviewed Middlebury last (for grades 3-5) I told you the one downside I saw was a lack of composition/writing activities. I really feel like writing the vocabulary and writing in the language helps it stick- and I am pleased to report that at the middle school level, writing is required.
I feel like this level is very complete, and the varied lessons do a wonderful job at teaching the vocabulary. I took French in High School, and the layout and activities in this course remind me of that french textbook and how we would work through it with our instructor. There is a call and response where your child listens and repeats back, there is a speaking lab where they will record themselves speaking and listen back to be sure their pronunciation is correct, and there are reading passages with questions to answer to ensure comprehension.
This level also covers grammar and sentence structure, and I am confident that Bug is learning not just Spanish vocabulary, but how to speak, write and understand the language. Of course, to truly master a foreign language he needs to be practicing through conversation, so I would recommend finding a friend, a tutor, or learning as a family while your child works through this program.
After trying this program at two different levels, I am hooked, and plan on budgeting this program in for years to come. Instruction is available straight through the AP level!