I took four years of French in high school. I am not fluent by any definition, but we travel often to French speaking countries, and I am pretty comfortable understanding what others say to me, and speaking in the most basic way. However, my husband and kids are not, so we used French Essentials: Full Access Online Program to help brush up on everyone's speaking skills. In the past the kids have not been able to do more than say please and thank you, but the last trip we took to Luxembourg was much more comfortable after a month with these lessons.

What's in a Lesson?
Each lesson contains a downloadable, media filled PDF. This PDF lesson contains audio and video files that are clickable in the text.
When you click on the boldfaced words in the vocabulary box, the audio file for pronunciation plays. This way, as you read and learn the vocabulary, you are getting the correct pronunciation each time. French Essentials is SO user friendly- this feature makes it easy for anyone to teach.
Along the way, the lessons contain cultural and pronunciation notes which help explain in what context certain words are used, and how they should be spoken. For example, football is sometimes shortened to foot, and salut can be hello or goodbye.
There are MANY videos in the lessons which allow you to see and hear native speakers, and for you to speak "with" them. This reminded me of French class in high school when the teacher would speak and ask us to repeat or ask us questions.
This program has a lot of practice, and it's all in a tidy PDF file on your computer.
About the Files and Website Subscription

The files download quickly, although you do have to manually download them one at a time. The only issue I had with the download process is that each file is individually zipped, and the file names are not clear on the zipped files. Once I downloaded, I needed to unzip them, and then organize them. I was able to do this in a couple hours (I popped movie in and made the night out of it).
The neat thing about French Essentials is that once you download the files, they are yours forever. One purchase is all you need to get all the modules they currently have released (1-4). You can then use them for all your children as many times as you want. I confirmed with French Essentials that the media (the audio and visual) aspects of the PDF's will continue working even when your paid subscription is up.
Of course, the additional flash card and tests in the student area of the French Essentials website cannot be downloaded or used after your subscription is up.
The Student Area- Exercises and Tests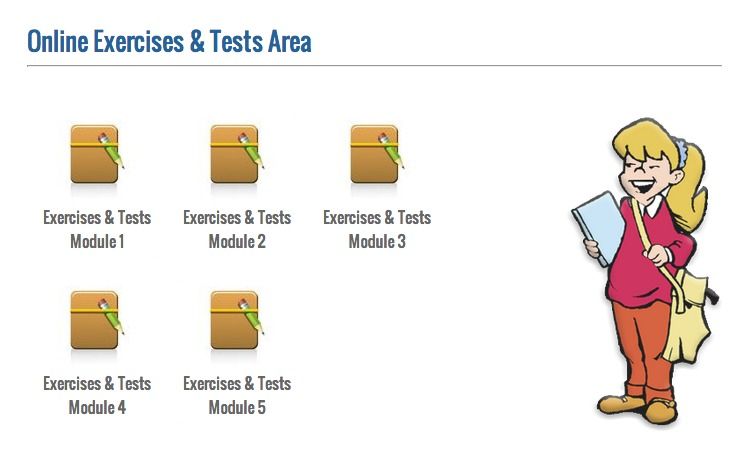 When you sign in to French Essentials, you have access to a student area as well as the parent area with the downloadable files. You cannot download anything in the student area, but you can use quizzes and flashcards that French Essentials set up with Quizzlet.
The tests are self-grading, which is always nice. They include a good mix of fill in the blank and multiple choice, so you are testing both spelling and comprehension. Of course, none of these tests pronunciation, which is why working with Bug and using the media-heavy PDF's was so important.
Our Experience

We need to speak more French so we can go back!
I liked that these lessons started with the most practical information first. I vividly remember conjugating verbs over and over in French class, and learning how to say "I am on fire" and "I like skiing." This curriculum doesn't have boxes of verbs and all their forms. It has practical information, taught clearly.
The downside is the same as the above "pro"… because there aren't boxes of verbs, and there is limited vocabulary introduced at first, learning is slow. I feel like all 4 of the currently available modules probably add up to about what we covered in my first year high school French class- and could be easily completed in about that same time span for an older student.
For my elementary kids, I think we probably would complete a module a year at this age, and then move more quickly as they get older. I like how adaptable this program is- my 5 and 7 year old children did just fine with it, yet I also can see it working well for a much older child.
The workbook is perfect to use with the kids, I love how much "white space" there was, which allowed my younger children room to write large. They are just long enough to be a good review, but don't take much time to complete. We have been working with French daily, completing 1-3 modules a week with 20 minutes a day.
After a month of work, the kids were much more comfortable making small talk in Luxembourg- answering questions about their names, and ages, and just having good manners. I loved that I didn't need to coach them on how to say hello and goodbye properly, and I know with more lessons, traveling will just get easier.
On a side note- I contacted French Essentials a couple times with questions about the program and technicalities, and every time they responded within hours. I am so impressed with their professional and quick customer service.
Currently Available Modules
French Essential's website currently has 4 complete modules available. You can see the scope and sequence of them on this page. Eventually, they plan on having a full 10 modules, which would be a complete high school French program. I asked about their production schedule since this is such a fantastic product, and was told that they will be releasing modules 6-10 over the next 2-3 years, taking probably a full year for the production of the 10th module.
Module 1 also includes files for cultural information, and there are plans for more of these with the other modules.
I will be anxiously watching and waiting for it to be complete!
In a Nutshell
If you are looking for a French program, French Essentials is fantastic. When you purchase a module you get the downloadable files, with audio and video files integrated; access to online flashcards and quizzes, and for module one, cultural information. When you purchase the files, they are yours forever, so one purchase is good for all of your children. The first four modules are currently available, and are recommended for 3rd grade and above. You can purchase each module individually for $69.95, or get a full year's access to all modules for $149.95.