Classically, Eclectically, Magically Homeschooling
Homeschoolers often define themselves by labels. They talk about educational philosophies, methods, boxed curriculum, world views…. There seems to be an endless supply of labels. Today, for the first day of the TOS Review Crew "Back to Homeschool" blog hop, the crew will be talking about homeschooling methods and the various ways we label ourselves as educators.
I call myself a classically leaning eclectic homeschooler.
The classical method of homeschool basically goes back to the "old way" of doing things. And by old, I mean old. In roman times, education was based on the trivium. The trivium is basically the idea that knowledge is acquired in steps based on the readiness of the child.
The first step, the grammar stage, is based on learning the "what". When a child is young, they are like little sponges. They memorize things easily, and they soak up facts and details. The goal of the parent is to help the child ask questions and seek out knowledge, as well as absorb the facts that have been given to them. This is the time to teach them the little pieces that make up the framework of a solid education.
The next step is the logic stage. In this stage children begin to think critically. At this point in their development and education, they begin learning the "why". They start to connect the dots between things they learned previously, and see the patterns of cause and effect. As the child matures, they are able to make connections and form an understanding of relationships, both personally, and in their studies.
The last step is the rhetoric stage. In this stage the student is ready to not only look at something critically, but they are able for form a conclusion, and express it eloquently, convincingly, and originally. At this point, they are able to judge the material in front of them, and really understand motives, and are able to have deep, philosophical conversations about the world.
The thing that really draws me towards this classical model is that it is based in language, and is reliant on the child learning to understand language, and express himself well. It acknowledges that all the subjects are interrelated, and allows for "rabbit trails". As a social science major in college, I was entranced with philosophy and sociology, and this educational philosophy acknowledges the importance and power of these disciplines.
A classical education means many different things to the people who ascribe to this theory. It sounds very pretty when I write it out, and while I have every intention of following this model, my children are still young.
Not quite ready to discuss Plato
I am still young. I am still figuring out who I am, as a mother, and as an educator. I take my job seriously, so while I love this philosophy, I'm not married to it. We're trying to figure out what works for us, and I am trying to figure out what it means to me to be a classical homeschooler.
Me, not quite able to tell you with a straight face that I am capable of discussing Plato.
To me, being a classical homeschooler means that means that my copy of "The Well Trained Mind" is well read, and well loved. It means that I am dreaming big when it comes to the goals I set for my children and the well educated people I want them to be. It means that I try to incorporate classic literature and focus on "good books". It means that right now, we are strongly focused on the "building blocks" as we are knee deep in the grammar stage. We are memorizing math facts, the basics of grammar, important names and times and places. It means that I follow a 4 year cycle of history (at least we've started, and I plan to continue), teaching chronologically, and I try and incorporate our other lessons into the cycle.
Much of our lessons come back to the classics, and to history. For example, right now, we are studying ancient Egypt. We are reading ancient myths (which count as "classics"), our writing lessons included retelling these Egyptian myths through narration and dictation exercises. Our science lesson included discussing how water follows salt as we dehydrated our own chicken mummy. Our reading basket right now is filled to the brim with good books, based in Egyptian history.
I also consider myself eclectic, which in the homeschooling world often means that you pull your resources from all over the place. There is so much I want to teach my children and so much I want them to see. I suppose many would consider us "rigorous" because of the amount of time we spend on "school" each day. But, like I said, my kids are still young, and for them, learning is still magical.
I hope it stays that way, because there is so much more I want them to see. I love watching them light up as we explore this big beautiful world. I love seeing the amazement in their eyes as we do experiments and the unexpected happens. I love when they light up because they get it. I love that learning is fun for them. It's fun for me too, and it's difficult to label enjoying the magic as homeschooling method.
I'll be talking all about our homeschool this week with the blog hop, and you'll see just what I mean when I say we are classically-eclectically-magically homeschooling. Check back tomorrow to hear all about it!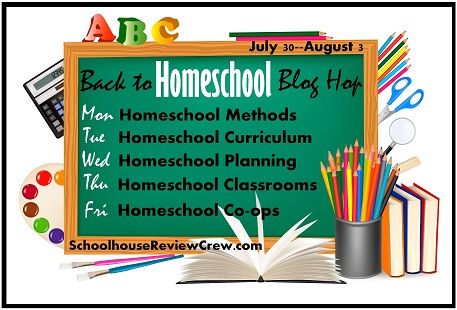 Click the Image above to be taken to the TOS Crew page to hear from the rest of the Crew!