I remember counting down the days until Christmas when I was a little girl. It somehow made the waiting a little easier–I suppose because I could see each day that we really were getting a little closer to the big day.
Back then, we used an old-fashioned calendar to count down the days. Today, we'd like to share a beautiful, printable Christmas Countdown that you can download and use to help your children count the days until Christmas.
It's fun and easy to use, so grab your printable and get ready to count down the days until Christmas!
For those of you who want to simply print and cut out the countdown, you can see from the photo above (on the left) that it's beautiful just the way it is! You simply use the main page (with the snow globe) and cut and glue/tape the correct number for that particular day onto the snow globe.
My daughter and I are artsy/craftsy, so we wanted to personalize this countdown to make it look even fancier. As you can see in the above example on the right, we mounted the number on Christmas-patterned paper before taping it to the snow globe picture.
I mounted the first page (the "main page" with the snow globe) on sturdy, red paper, which made it look extra nice and also made it more durable.
Whether you choose to keep it simple or make it fancy, it'll be fun and easy to use. And honestly, it really is beautiful either way!
Here are some other ways you might want to use this printable:
To reinforce teaching your child about the days of the month/months of the year.
Alongside practicing early math skills (number writing, counting down, etc.)
You may want to string up each daily printable to create a festive, "count down," banner for your home.
You could also have your children color/decorate each daily printable to reflect that day's festive activities!
If you do "Elf on the Shelf," you could also use these printables into your Christmas elf's daily antics.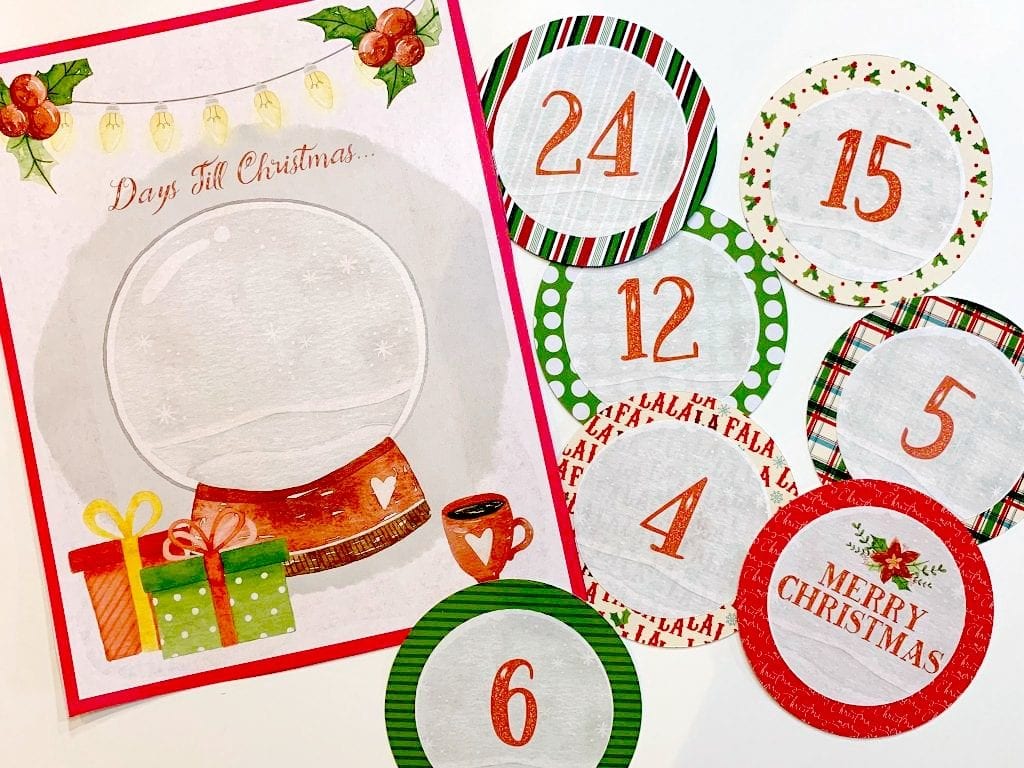 If you want to, you can use a laminating machine to laminate your countdown so you can easily use it year after year. Or you can save it to your computer and print out a new one each year.
Whatever you choose to do, we truly do hope you enjoy this Christmas countdown printable and that you and your family have a blessed Christmas.
Join the newsletter
Subscribe to get our latest content by email.