Did I ever tell you guys how much I struggle with Grammar? I feel like I have many, many grammar programs on my shelf, not because any of them are bad per sey but because I always feel like I can use some extra help in making sure grammar is being taught thoroughly and with as little stress as possible. Today's review is for a new book by Brookdale house, which really isn't new at all! Brookdale House has released Sheldon's New Primary Language Lessons and we have spent the last month or so enjoying it with the kids.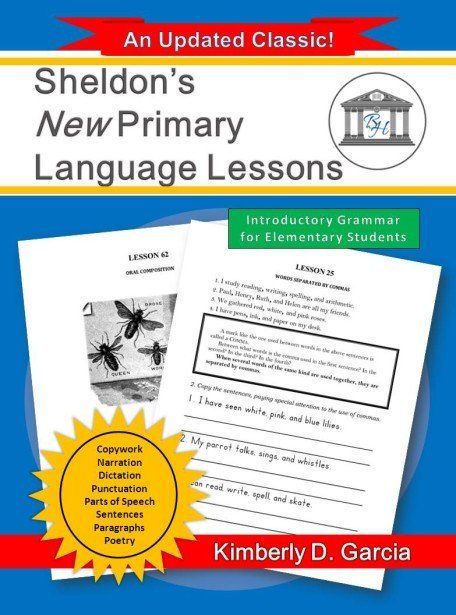 This new version of the classic Sheldon's Primary Language Lessons has been updated to be more child-friendly, and has been converted into a workbook format. According to the forward, it has been made slightly more gentle for homeschoolers following the Charlotte Mason educational philosophy.
Brookdale house suggests this book be used as in introduction to grammar for children in the third to sixth grade. Admittedly, my 5th grader has been exposed to grammar on more than one occasion and has been subjected to more than one grammar curriculum, but I found this book to be well below his capabilities. In the end, I ended up using it with my second grader, who fell a little on the side of "not quite ready" for the book. We remedied this by doing some of the lessons orally rather than requiring him to write in the text. Either way I look at it, I feel that this book is probably most appropriate for children who are able to write comfortably, but have had very little exposure to grammar instruction- the late second grade to early fourth-grade crowd.
That being said, I am a huge fan of classic materials, especially for language learning. My struggle with them has always been ease-of-use, and Brookdale House has solved all of my complaints of (insert here: needing a whiteboard, kids hate to work on separate paper, oral drills are super boring, the kids want to be able to see the pictures or read the text themselves….) by converting the material into workbook form.
The lessons are still every bit as practical and simple. There is still copy work and dictation practice, and a fair amount of fill-in-the-blank exersizes, as well as picture studies (a staple in charlotte mason programs) and composition. While the goal is to teach children to parts of speech, this goal is accomplished through reading and understanding well-written sentences, and composing their own sentences.
Instruction is still parent-led, despite the single workbook. Instructions, while minimal, are included in call out boxes if the activity is not immediately clear. As a parent who falls more on the insecure side of grammar teaching, I did need to google more than once to be sure I understood the concept well enough to answer my children's (hypothetical, as they never actually asked) questions. An answer key for the activities is located in the back of the book (which is tempting for my more creative read: dishonest children).
Overall, we enjoyed this program. I found it to be simple to teach, and it took very little time out of our school day. My kids found it to be a little dry (another common complaint about classic materials) but they tolerated the lessons well because it was quick and simple for them to complete. I would recommend this as a no-nonsense introductory grammar program for elementary students, especially for parents who are comfortable enough with grammar to not need much teacher guidance.
Brookdale House has many programs up for review this week with the Schoolhouse Review Crew- click on the banner below to read more about them!