TOS Review- Sampson's Classroom

This month, we have been using Sampson's Classroom Reading Software. This program is an online subscription that gives you access to three different Sampson's Classroom programs- Reading with Sampson, Sight Words with Sampson, and Spelling with Sampson.
Since this is a reading program, before I get into the details of Sampson's Classroom, I want to give you an idea of the student I am using this program with. I have a 6.5 year old new reader. He can read things like "The Foot Book" and "Little Bear" with no problem, but still struggles to read something like "Magic Tree House" independently. Sampson's Classroom is recommended for children grades K-5.
The Programs
Sight Words with Sampson
This program is the favorite in our house. Sampson's Classroom says "This engaging product is proven to help early readers master the 224 most commonly used words in the English language."
Bug does find it "engaging"- this is the game he comes back to play over and over again. The sight words are broken down into wordlists, and then each list has 5 steps with different games to help the child master the words. These games include activities like completing the sentence with the words, typing the words out, and building them from limited choices on the screen.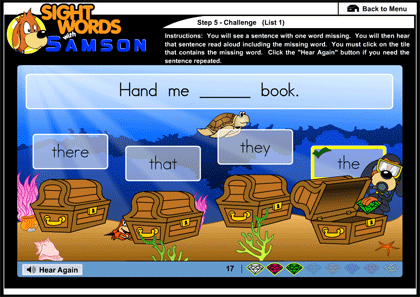 My favorite part about the sight words program is the Resource Center. The membership comes with many printable lesson plans and PDF games and worksheet. I like that I can reinforce the things Bug is learning online with the downloadable games and worksheets, he remembers so much better when we can be working on paper as well as on the computer. There are fill in the blank pages, word scrambles, and so many more worksheets. There are also printable flashcards and games to go along with the sight word lists.
Bug preferred this game because it provided just enough challenge to him without being too hard. I would say it is very appropriate for kids in grades K-2.
Spelling with Sampson
Sampson's Classroom says "With more than 5,000 words and counting, Spelling with Samson is the most comprehensive spelling product on the market." Spelling with Sampson is nice because you (the teacher) can put in your own spelling list of up to 30 words. Multiple lists can be made at once, so I can enter all our lists at one time, and simply tell the child which list I want him to work off. I loved how I could adapt this program to reinforce our other curriculum. All the words I entered were available in the data base, and they have a way to submit a word to be added if the word you need is not there. The program reads the word aloud, and in a complete sentence. I was impressed that it was not a robotic voice, but a very pleasant voice reading the spelling words and sentences.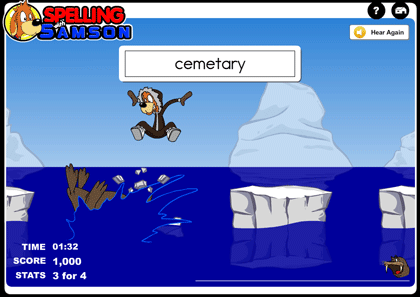 Spelling with Sampson has three spelling games for the child to choose from:
Missing letters– This game has a Karate theme. Bug liked it because it was low stress. Even when he got the answers wrong, the character does something funny… he is unable to karate chop through the wood, so he bonks his head, or hurts his elbow… which made my son laugh.
Crunch Time– The child needs to type in the spelling word while racing against the clock. Again, the graphics are silly, which kept Bug laughing, even when he struggled to spell the word quickly enough.
Spelling Scramble– On this game, the character has to run away from a spider while collecting the letters needed to build spelling words.
These games were more challenging than the Sight Words with Sampson program, and I would say they are appropriate for 2-5th grade children.
Reading with Sampson
Sampson's Classroom says their reading program "helps students analyze reading material and learn how to draw conclusions and answer questions based on that material." Bug was not ready for this portion of Sampson's Classroom.
There are 4 levels in the reading program. In the first a level, the child is asked to read a story of about 4 paragraphs (with no pictures or other visual "clues"), and then are asked to answer questions about it. The passage is always available for the child to read while they are answering questions. If the answer is wrong on the first try, the relevant section is highlighted for the child to be able to find the answer more easily. By the 4th level, the stories are much longer, and are more complicated.
I feel like this part of the program would be appropriate for a child reading at about a 3rd-5th grade reading level.
In a Nutshell- We have been enjoying Sampson's Classroom. Bug has asked to play the sight words program daily, and even Mr. Man gets in on the fun laughing at the Missing Letters spelling game. The site is easy to navigate, and progress is tracked on the parent screen so I can always see where Bug is in the program and how is he doing. When I did need help setting up the spelling list, I was able to find "how to" videos and was able to get all my questions answered. I feel like this program would be of most value in a home with multiple school age children!
A year subscription costs 30 dollars for one student, or 50 for a family subscription (up to 4 students). Something I always like with a new program- You can play demo games without setting up an account if you want to try before you buy!
Disclaimer- I received this product free of charge in exchange for an honest review. All opinions are mine. Click the Link above for more Crew Reviews.