Lonestar Learning- A TOS Crew Review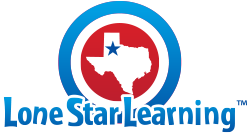 Just this week, we finished our unit study on Ancient Rome. We did so many exciting things, like visit roman ruins, read history, and learn about the culture. To enrich our study, we also learned some Latin roots and explored how the Latin language influenced the English we speak today. Teaching Latin roots to a young child may seem like a complicated goal, but Lonestar Learning's Greek and Latin Roots cards made it easy for us.
When these cards arrived, I was immediately impressed. They are large, 5.5 by 8.5 inches, and are printed in full color on glossy card stock. They are recommended for 3rd-8th grade, but I used them with my almost-7-year old. In the Greek and Latin Roots deck, you get 30 Latin roots, and 30 Greek roots, which are color coded so you can separate the deck, or use them together. The cards are all illustrated in such a way that their meaning is incorporated in the root, which helps a visual child remember the meaning effortlessly.
Right away, the cards held Bug's interest. Before we used them as part of school, we went through the deck and tried to "solve the picture" to see what the root meant. Some of the cards were difficult for us to figure out, so we referenced the Parent Card (which is included with the deck, and lists all the meanings of the root words, and example words) to see what the root meant exactly.
The only issue I had was that I wasn't familiar with all the roots myself, and needed to keep checking the parent card as I learned along with Bug. I wished that the cards had the meaning and some example words written on the back, so the child could self-check the cards themselves instead of needing to reference a separate card, but soon we both had memorized the roots and no longer felt the need to check the parent card.
For example, we both had a hard time with "vor". I know it is in the word "voracious" and "vortex" but both of those words were outside of Bug's vocabulary, so we needed to check the parent card to see what it meant.
Other cards, like "dict," were easy to figure out, because not only is the picture on the card clear, Bug also was able to make the connection to words like "dictation" (which he does during Language Arts time daily) and "dictator."
We used these cards many ways. I love how flexible they are; we used them as flashcards, as a game and as a visual aid. Bug enjoyed just going through the deck looking at the pictures and "solving the puzzle". My husband and I played "word war" with him to see who could come up with the definition first. During the school day, I used these cards by hanging up a card in our homeschool room as the root of the day. When we came across a work that included the root, I reminded Bug to check the card to see what the root meant. From there, Bug was able to decipher the meaning of the word using his knowledge of the root.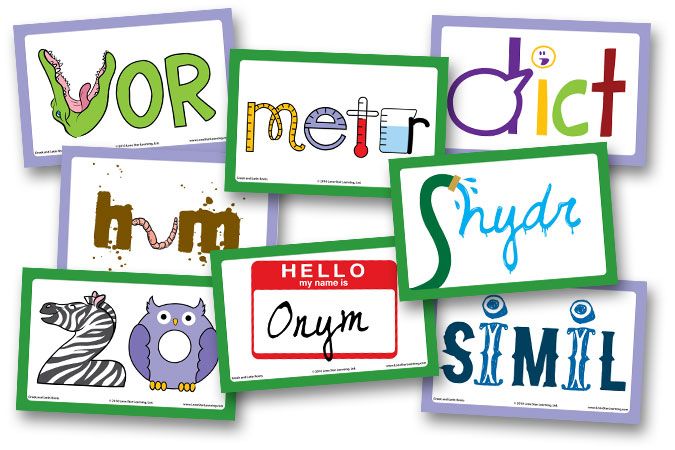 With an older child, I would use the same "root of the day" idea, and list words that have that root. I could see using them as a basis of a spelling list, or alongside a Latin/greet root word based vocabulary program. These cards can be used so many different ways, and I don't think any one family will use them the same!
I am so thrilled with how easily these cards helped us incorporate vocabulary into our daily routine, without needing to add any extra worksheets or fuss. After a few weeks of using them, Bug's vocabulary is improving, and instead of asking me the meaning of all the "hard words" he comes across, he has learned to look for roots in the word that he knows.
Bug's Review: "I like these cards because I am able to really figure out what they meant most of the time! The pictures are cool and they are fun to use. Sometimes they're really hard, but when you tell me what it means, I get it! I like being able to figure out words now, it's like having cool clues!"
Lonestar Learning has "Get the Picture" Vocabulary Cards for many topics in Language Arts, Math and Science. I am so impressed with these cards and Lonestar Learning that I have many of their card decks on my wishlist for next school year! Other Crew Members reviewed the Math and Science Cards, as well as Lonestar Learning's Target the Question software- check them out by clicking the banner below.
The Greek and Latin Roots retail for 39.99, and are made in the USA (which I think is pretty cool!).