Apologia Educational Ministries has a brand new book that you really need to check out! Exploring Creation Field Trip Journal is a perfect resource for families who like to school on the go (like us!).
Why Are Field Trips Important?
In our home, field trips have always been a central part of the kids education. I strongly feel that kids learn best when they are doing, and touching, and experiencing life instead of just learning at home. When we lived in Europe, we spent one day a week checking out historical sites around us. We went to castles, and battle fields and museums, and I really wish we had this book in hand back then!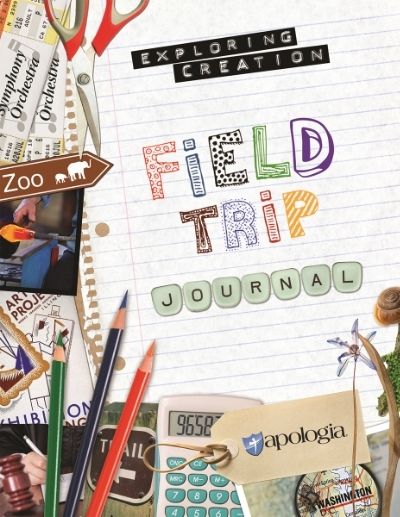 This book is very open ended- it has plenty of room for kids to record whatever they are exploring!
There are three main different types of pages:
Trip Pages: These pages are fantastic for single day adventures- things like trips to the museum, or zoo would fit here. Kids can use this page to plan their trip, and then include information about the trip itself. I love the section on "what I would like to see" – I can have the kids do some research in advance and narrow down their must-see's so nothing gets lost!
My Special Spot: These pages are perfect for nature journaling. A couple years ago, the kids picked a tree and went back to it as the seasons changed so they could document changes. That's what kids do in the "special spot" pages.
As I See It: These pages have prompts for the kids to draw and write about all sorts of things!
This book also includes field trip ideas, planning ideas, open ended pages, and so much more.
Why I like it:
I love that this is a self-made memory book for the kids. They are colorful, sturdy and appealing to kids from about 6-10 years old. After seeing one, I really need to pick up one for each of the big kids so they can record our adventures in their own words. They don't remember nearly enough about our European adventures, and I really think that if we had a tool like this back then, they would be able to recall much more!