A Journey Through Learning: Schoolhouse Crew Review
Before I even get into talking about the product we used in our Homeschool, I want to tell you a little about the company behind it. A Journey through Learning is a company that was started by two homeschooling mothers who saw the need for more hands on materials for homeschoolers. The owners, Nancy and Paula, started this company over Christmas dinner, and have built it from the ground up, through educating 6 kids, horrible loss, and many years of hard work.
I feel like this is important to my review because I love the idea of supporting women who are working hard to support their families. These women know what homeschoolers need because they are homeschoolers.
For this review, crew members were sent a few A Journey through Learning products:
Lapbooks:
Letters, Numbers and Shapes (made for ages 3-5)
The Earth (made for grades 1-4)
Knights and Castles (made for grades 2-7)
And a Unit Study:
Astronomy and Space (made for grades 2-7)
After glancing through them and printing them out, I let Bug choose which one he wanted to do. They all looked interesting, but since Star Wars reigns supreme in my house; he decided we should learn more about Astronomy and Space.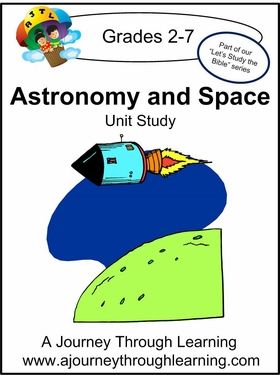 The Astronomy Unit study is set up simply. Each topic (i.e. The Sun, The Moon, Jupiter, Rockets) has an included information page, an activity page, and vocabulary words. In our family, we read the information page, discussed it together, and worked on the activity sheet. Later on his own, Bug would look up the vocabulary words in the dictionary to add to his vocabulary sheet.
Most of the activity pages are worksheets, but some of the topics have hands on activities to complete, like making a diorama, using the heat of the sun to make s'mores, and drawing the phases of the moon. I really liked the organization of this unit study. I feel like it provided me with a solid framework for a study of Astronomy and Space and gave me good ideas of what topics to research more with Bug. This unit study is written to be self-contained (you don't need anything but a printer to use it) and can be completed in 1-2 months if you do a topic a day.
I liked the idea of using a unit study in our homeschool, but I struggled with the Astronomy and Space unit for a few reasons. The unit contained multiple editing errors, spelling and formatting mistakes which bothered me as I tried to read the unit. Bug struggled with it, because the information presented was very simple, for example, it explains that the difference between a comet and an asteroid is that comets have tails. This is true, however, the main difference is that they are made up of different materials (which is the cause of comets having tails), which really bothered my literal, detail oriented child. We handled this by adding in outside reading to help Bug "beef up" the study.
I feel like this unit would work best for children in second to third grade, instead of the second to seventh grade recommendation. However, because of its reasonable price and solid topical outline, it works very well as a jumping off point for any student if you were going to add more reading and activities to it.
You can purchase the Astronomy and Space Unit study from A Journey Through Learning as an instant download for 13.00

My Crew mates have also been reviewing A Journey Through Learning products, including their lapbooks. I really feel like their lapbooks are the strength of the company, and many of my Crew mates are strongly recommending these products. Please head over to the Schoolhouse Crew blog to read about their experience with lapbooking and A Journey Through Learning!