I held my breath as my 5th grade teacher handed back my paper. I spent hours working on it. I rewrote the paper 3 times, in my very best handwriting. To this day, I remember the smell of the blue ink on my fingers, and how fascinating the idea of cloning a pig was. It was the best paper I had ever written, and as a people pleasing 10 year old, I wanted nothing more than a sticker saying "good job" at the top of the page.
When I looked down at my paper, I couldn't keep the tears from falling. My "perfectly" written paper was covered in ugly red pen marks, and at the top of the page, my teacher had written a note reminding me to check my spelling as I was writing. Terrible spelling skills followed me from that classroom, and to every other class I set foot in.
I tried writing spelling words over and over. I tried having people quiz me, but that didn't help because I spelled worse orally than I do on paper. I can look at a word and tell you if it's spelled correctly, but I can't come up with the spelling myself. My vocabulary is great and I read often, but if I have to hand write you a note, you would never know. I keep it simple and only use words I know I won't butcher. As I got older, I stuck with typed communication, but even then, sometimes the computer can't figure out what I am trying to say above those red lines on my screen.
As a homeschooler, I am terrified that I will pass on my weaknesses to my children. What if terrible spelling is in their genes? Reading Uncovering the Logic of English: A Common-Sense Approach to Reading, Spelling, and Literacy
eased all those fears. Not only am I confident now that I can successfully teach my children to spell, I have been using the book and improving my spelling as well. In the last year, I have become more confident in my abilities, and my computer screen has far fewer angry red lines as I type these posts each day.
When you read Uncovering the Logic of English, you'll realize that English is not complicated as many people like to preach. It's not rocket science. English has solid rules that explain why words sound the way they do, and why they are spelled the way they are.
For example, each word can be explained using phonics and spelling rules. You learn the rules, and apply them to the words you struggle with. Once I internalized the WHY behind the spellings, I was able to much more accurately figure out how words were supposed to be spelled. Of course, I still don't spell everything right, but I am doing much better and the computer has an easier time figuring out what the heck I am trying to say!
This book isn't so much a sit in your bathtub and read sort of book. I needed to sit with a highlighter and notepad to really sort through what I was reading. It's a book that can be used as a reference in your home, for years to come. It is a book that I feel every homeschooler, and parent of a struggling reader/speller should have on their bookshelf.
I know I talk often about The Logic of English as a company. We use their curriculum at multiple levels. I am not affiliated with them in any way, and I don't profit from sharing this information. I share it because I believe strongly in the philosophy and the people behind the product and really feel that this company can change the literacy crisis in the United States today, just as it has helped me and my family. This giveaway is sponsored by me, with the blessing of The Logic of English. I want to share this book with my friends, so enter the giveaway below for a chance to win your own copy of the book that changed the way I teach!
(please read terms and conditions before entering)
a Rafflecopter giveaway

This post is part of the Schoolhouse Crew Blog Cruise! This weeks topic: A Good Read. Link goes live Thursday April 11, 9 EST- click the image below any time after that date to read more from other Crew Members!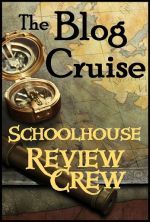 Join the newsletter
Subscribe to get our latest content by email.