It's not often I label anything the "best" . . . but I am going to go ahead and jump in with both feet for this review. Some background for you- I just *love* to plan, I love lists, and to-dos, and paper trails and records. I am happy when things are organized and pretty. I crave structure. I have paper planners, and online organizers, and just about every tool you could imagine to keep my life balanced and myself sane. Homeschool Planet is a tool I found about two years ago, created by Homeschool Buyers C0-Op and I have been hooked ever since I tried the free trial. When a review of my beloved planner came up with the Schoolhouse Review Crew, I basically begged to be a part of the review team.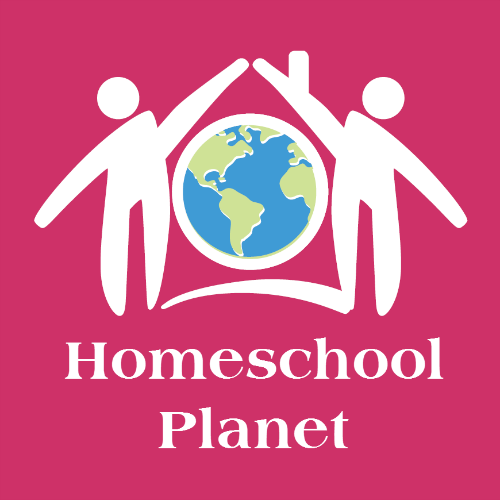 How Homeschool Planet Works
Homeschool Planet is an online planner and scheduler. You sit down with your curriculum and classes for the year, enter them into the system, and then you can check off assignments as you complete them throughout the year.
Scheduling is easy- there are auto generators that can break down curriculum by chapter, by reoccurring patterns, by a number of pages, or you can manually enter each day's lessons. Classes are color coded, and there is room for all your students to be added. You can print off assignment lists by days or weeks, and print reports and transcripts at the end of the year.
I used the assignment generator to quickly break down our Logic of English curriculum into smaller segments- quickly scheduling the entire book to be done four days a week.
This program is so extensive, it's hard to fit it all into words. I really just need to sit down with you and click through it all to explain it! But- I can't do that… so, you should just stop right now and check out the free trial of the program. And then come back and read more reviews so you can really use it to its fullest potential.
My Favorite Features
I've spoken before about how you shouldn't let your planner get the best of you. There are going to be days where school is just not going to happen because Momma needs to go to the doctor, or the sunshine is calling and you need an impromptu adventure, or you just plain need a day off to do some laundry and binge watch New Girl on the couch.
Those days happen. And when they do, you need to be able to reschedule the days assignments easy. With this program, it's as easy as clicking a toggle button to push all the lessons back one day on the calendar. If you block schedule, like I do, and only do science on Tuesdays, you can choose to push the lesson to Wednesday, or just move it to the next Tuesday and bump everything out a week.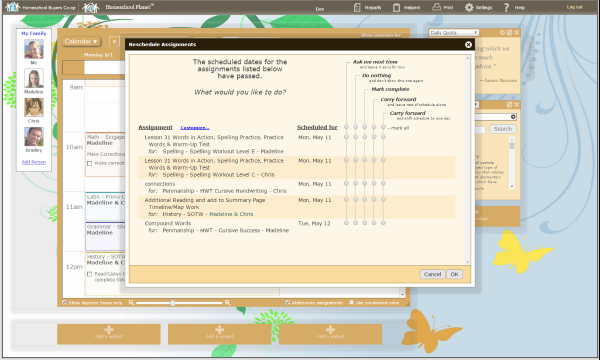 The rescheduling helper is the neatest tool, and it makes sure anything not marked complete isn't falling through the cracks. I love that it makes it easy for me to be flexible, and to be organized all at the same time. I totally need that.
The other feature that I absolutely love is the ability to add in "resources" for my kids. I added in all the online classes, subscriptions, and websites the kids use, and assigned them to the kids. Now, when Bug looks at the planner, he sees this:
Right from inside the planner, he can click on the website, and go right where he needs to go to complete his lessons. If he forgets his username or password, he can go to the resource page, and check where I have those listed for him.
Boom. No more excuses to not complete ALL his lessons.
How it Helps My Family
The last couple months have been a huge transition for the kids and I. Bug has had to really step up and take more ownership of his schedule. I was able to put everything (and I mean everything) he needs to do into the system, right down to the websites he needs to visit and the login info.
Each morning, he signs into his own account. He can see just what he needs to do. He can send me messages from inside the program (there is a messaging feature which sends notes right to my email) if he has a question, and I know to call home to help him if he does that. He marks off what he completes, and I can keep track of all of it.
It's incredibly helpful. In the past, I had only used it for myself, but having Bug sign in on his own is a whole new level of awesomeness. If you have older kids who need a little help staying on track, or if you have a bunch of online resources to juggle, I can't recommend this tool enough.
If you just want to get your own resources in order, and try an online program (instead of? in addition to?) paper planning…. or if you want to try planning for the first time, check out the free thirty day trial they offer!