I've heard so many good things about learning Latin- kids who study Latin have a better grasp of Grammar, have better vocabularies and score better on the SAT. Some say that learning Latin will help you learn other languages easier in the future. Memoria Press has a wonderful article on the Top 10 Reasons for Learning Latin, which really sold me on why we needed to try Prima Latina to start our Homeschool's Latin Studies.

For this review, I was given the Complete Prima Latina Set from Memoria Press, which includes the Teacher's Guide and Student Book, the DVD Lessons, Audio CD, and Flashcards. I purchased the Prima Latina Cursive Copybook to use with this program on my own dime, and have included it in this review (because I love it).
What is Prima Latina?
Prima Latina is the Primer program in Memoria Press' Latin line up. This program is meant to be a gentle, but thorough introduction to Latin, and will prepare your child to use the Latina Christina program (also from Memoria Press). Prima Latina is heavily based in Latin phonics and grammar, which are the foundation of Latin study. There are 25 lessons, 5 review lessons, and 5 tests.
By the end of the program, a child using Prima Latina will be able to
·

"Pronounce, Spell and Translate approximately 125 Latin words

·

Learn 25 practical Latin expressions and 4 prayers in full

·

Learn numbers 1-10

·

Learn names of popular constellations"
In addition to these things, Prima Latina teaches a *lot* of grammar. Parts of speech, and much more is covered. Prima Latina also covers derivatives in depth, teaching English vocabulary right along with the Latin vocabulary.
The Teacher's Manual and Workbook have nice, clean, white pages with lots of room for the student to write. Each lesson is meant to cover about one week of instruction, and is broken down by section (the main lesson which is grammar based, Latin vocabulary, learning Latin prayers, English derivatives (vocabulary), practical Latin (phrases and conversational terms), and the exercise activities which allow for ample practice and review.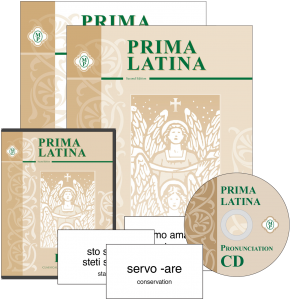 The DVD Lessons
The DVD lessons are simple, but very effective. Each lesson in Prima Latina is taught in detail. The teacher, Leigh Lowe, talks directly to the student in a friendly and engaging way. The DVD has printable slides to help you follow along with the DVD if you need them. The DVD even includes review from the previous lessons, and guidance for the exercises. It is very thorough.
Leigh Lowe is just wonderful. She does have a southern accent, but she enunciates clearly and I don't feel like it interferes with learning the pronunciation- it just adds to her charm. She's peppy and friendly, and the kids just instantly fell in love with her. She makes little jokes, and challenges the kids to work hard. The DVD is Bug's favorite part of the program, and asks daily to watch his lesson (I let him watch the week's lesson multiple times to really let it sink in). Even the baby will sit to watch the lessons because she's got such a magnetic personality coming through the screen.
Supplements: The Flash Cards, Audio CD and Cursive Copywork Book
The Audio CD includes all the vocabulary, prayers, phrases, and 4 songs in Latin. It is very helpful to use along with the Teachers Manual when teaching the lesson, and I feel is a necessary part of this program, especially if you don't have the Prima Latina DVD.
The Flash Cards are made for Latina Christina, but since Prima Latina covers all the same vocabulary (albeit, a much smaller amount) the one set of cards are used for both levels. These cards do not contain the practical phrases for Prima Latina. They are printed on perforated cardstock.
The Cursive Copywork book for Prima Latina contains worksheets for each lesson in New American Cursive. These allow for both cursive practice and additional vocabulary practice.
Our Experience with Prima Latina
It has been fun and enjoyable, but let me tell you, Latin ain't no joke. The pace on this program is set to be one week per lesson, and it takes us about 15-30 minutes a day.
In addition to reviewing the grammar with the flashcards daily, we break our week down like this:
Monday– Watch full lesson on DVD for the week, do the review portion of the exercises in workbook
Tuesday– Review the main lesson (the grammar instruction), do the Lesson questions in workbook
Wednesday– Review the practical Latin and vocabulary, do the translation and speaking Latin portion in the workbook
Thursday– Review the Latin prayer and do the write and learn portion of the workbook
Friday– Review the derivatives, and complete any remaining workbook exercises
On the Weekend– Do the cursive copywork as "homework"
Bug really enjoys this program. He enjoys the challenge and is having an easy time remembering the vocabulary. The phonics and grammar provide more of a challenge, but it is one of the few subjects during the day that has never lead to tears. Instead, he asks daily to complete a lesson, so I would call it a big hit.
I really like how the teacher's manual is set up. It is really clean on the eyes and easy to use. I have no background in Latin, so having the DVD has been a huge help to me. I like to watch the lesson with Bug, so I know when I sit down with the teacher's manual to teach it myself during the rest of the week, I am pronouncing everything correctly. I feel like Leigh Lowe really explains the lessons more in depth on the video than the teachers manual does, and that added spunk and experience really makes a difference to us as we use this program.
In just a few weeks, Bug already has added new words to his vocabulary, and is taking his understanding of the Latin based portions of the English language to the next level. I am thrilled that with Latin, he is learning both Grammar and Vocabulary, on top of a foreign language, so it has streamlined our homeschool day a little because I was able to drop our other grammar and vocabulary programs from the daily line up. A multi-tasking curriculum is always welcome in my home!
I really like this program, so much so that I have already budgeted in Latina Christina for our homeschool line up next year.
A Note to Secular Homeschoolers
We are Secular Homeschoolers, which means we don't normally use religiously based curriculum. This program is decidedly Christian, because it's basis is in Christian Latin prayers and includes quite a bit of Christian vocabulary, like "God", "Jesus" "heaven" and many more "religious" words. The curriculum does not preach, other than sharing the prayers. It would really be about impossible to leave these things out of the vocabulary, but you could skip the prayers in your home.
The DVD is practically self-teaching, and it's given me the guidance and support I need to teach Latin without a Latin background. There is so much content here, and frankly, I find the Latin prayers both beautiful and fascinating. I feel like this program is so well done, and so easy to use that it would be a shame for me to reject it on the base of religious content alone, which is why I am happy to use it in my home long-term.
Some Secular Homeschoolers will disagree with me (which is okay- remember my experience may not be the same as yours) so I recommend looking at the sample lessons and table of contents to see if this program will work in your home as well as it worked in mine.
In a Nutshell: Prima Latina is recommended for students in grades 2-4, and is a systematic, clear and easy to use program for teaching Christian Latin. Parents who have no Latin experience would benefit from the DVD lessons, and I highly recommend purchasing the complete Prima Latina set. I feel like this can be used for both secular, and Christian homeschoolers. I had fantastic success with this program, and plan on sticking with Memoria Press for Latin studies for years to come.
Don't just take my word for it, many other crew members also revewed Prima Latina, and Memoria Press' Geography 1- check out their reviews.

Pricing Information:
Prima Latina Complete Set: $90.90
Prima Latina Copywork Book: $14.95