Peanut turns two this week, which is crazy to me, because he was born yesterday. His nickname doesn't really fit him, because he is the biggest of all of my babies, and is growing at an astounding rate. He's huge. His favorite thing to say is "I don't WANT to" and he loves to eat just about everything, but especially bean burritos. He is a bull, and doesn't put up with being pushed around by his siblings at all. He loves to climb my pantry after figuring out how to pull apart the child locks, getting water from the fridge dispenser (and, pouring it in whatever nearby container he can find, but preferably, pouring it in my boots). He loves to pour out the containers of flour and sugar, and to empty the vacuum bag, and to fiddle with things. He loves fiddling.
He also really, really loves LEGO Duplo. His "eg-gos" keep him entertained for long periods of time. If I pour them out on the carpet, he stays on the carpet, for at least a while.
My favorite thing? Playing with the Duplo bricks with him!
LEGO Duplo bricks are actually a really useful tool for early learning so all the time I spend on the carpet with him serves multiple purposes. Young children learn through play! I get my cuddly snuggly playtime with my peanut, the house gets a break from his destructive tornado like tendencies, and he is learning.
Learning Activities to do with LEGO Duplo Bricks Today
Make towers with a color pattern and encourage your child to help you find the next color to add to the tower.
Learn about biggest and smallest. Make towers with the biggest bricks on the bottom, and smallest bricks on the top.
Compare bricks, asking your child which brick is bigger or smaller. Ask them to find the biggest brick in your collection. Ask them to find the smallest brick in the collection.
Learn about balance by adding bricks to just one side of the car or building tray. See how tall the tower can get before it falls. See if you can make the tower even bigger by widening the base.
Practice colors. Talk about the colors of the bricks as you build together with your child. Sort the bricks into piles based on color. Build creations out of just one color at a time.
Watch as your child works on their fine motor skills. It takes talent to connect elephants to bricks and to put people into cars and to connect all the pieces together!
Talk about the characters you are playing with. What are their names? What are they thinking or feeling?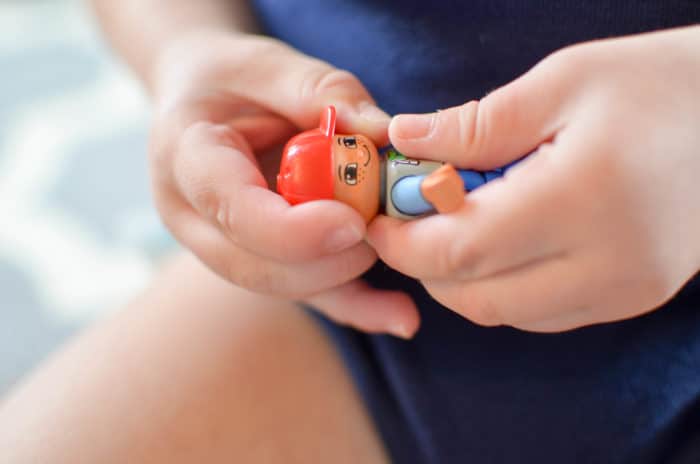 Play imaginary games and tell stories. Where is the man going to go in the car?
Whatever you do, when LEGO Duplo is involved, you are sure to have fun doing it! The LEGO Duplo bricks are specially designed for little ones – they are twice the size of standard LEGO bricks, so you can safely introduce kids as young as 1.5 to building with LEGO bricks. Bring out a bucket of bricks and sit down to play with your little one.
I was selected for this opportunity as a member of CLEVER and the content and opinions expressed here are all my own.