Homeschool in the Woods: Schoolhouse Crew Review
It's no secret that my family travels frequently. Living in Europe is a dream, we have so many amazing countries within driving distance of our front door, and take the time to explore them every chance we get. I love finding products that help us learn more about the places we visit, and their history. Home School in the Woods Great Empires Activity Study has really helped us make the most out of our travels and schooling.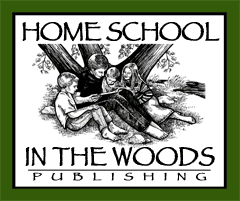 What is Home School in the Woods?
Home School in the Woods is a company that makes lap books, activity packs, timeline figures and other creative homeschooling products. It was founded by the Pak family, who have been homeschooling their 6 children since before homeschooling was "cool." Amy Pak understands that homeschoolers need more than textbooks to learn, and knows that we are a picky bunch. She researches and illustrates all their products, which means any Home School in the Woods product is going to be 100 percent original, beautiful, and incredibly well done.
What is the Great Empires Activity Study?
The Great Empires Activity Study covers 14 empires: Ancient Egypt, Ancient Greece, Ancient Rome, Ancient China, Arab-Muslim Empire, Mongolian Empire, Viking Empire, Spanish Empire, French Empire, English Empire, German Empire, Japanese Empire, Russian Empire and the USA.
Whew- that's a lot, right?
Each Empire includes map work, hands on projects, recipes, and historical information. Technically, each Empire could take only a day or two to complete. In our house we found that the added reading and exploring (from the included reading lists and internet links) caused each empire to take a week or more to work through.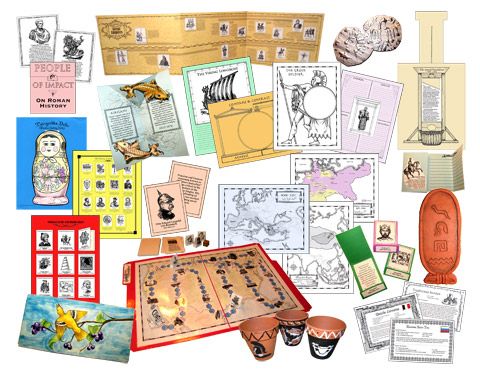 How it worked in my Home School:
When you first receive the product, either in download or CD form, you'll have some work to do. When I first saw how the files were organized, I was really overwhelmed. This product is not open and go- it needs set up. Each project, information sheet, and teacher page is an individual file. Some pages are meant to be printed on the back side of others, and you'll need to manually find them to match them up. If I could change one thing about this product, the formatting would be it. I would love to see them streamline the files by country, so if I want to study Germany I click on that file, select the appropriate print settings, and go instead of having to sort everything out. This process does take me some time, but I want to reassure you that it is worth it. Once you have it set up, the Great Empires study is easy to use.
This study in particular really provided a solid framework and lots of added activities for each Empire. I can see it being used as an amazing supplement to any history program, but especially an ancient history program. You could also use it alone, adding in supplemental reading, and it would last you a full semester. Other Home School in the Woods products, like the Passport Middle Ages are full history programs. Additional reading suggestions are included with each Empire, so you don't have to go searching for them yourself. Home School in the Woods also maintains a webpage for the product with many awesome links to related websites. There is an abundance of information provided, which I love because it's less work for me to have to do!
We used the European Empires to help beef up our adventures in Europe. For example, we used the French Empire unit to learn more about the geography of France, important historical events, the French revolution (and made a paper model of a guillotine), and French food. We did all of this in the week leading up to our Paris trip, and it really helped Bug gain an understanding of the history of France and made the trip so much more meaningful for him.
At Marie Antoinette's Cell in Paris' Conciergerie before she was executed. Our trip to the Conciergerie was so much more meaningful to Bug thanks to the Great Empires unit we did on Paris before we left.

The Germany unit included a fun history game using cards with important figures and information on them to play "Go Fish" and a fantastic recipe for Spaetzle. With the Vikings unit, we learned more about Longboats. The English Empire unit taught us about the 30 most influential people in English history. These projects make history come alive for Bug who would rather color and play than do anything else.
I really like how the program includes teacher information and keys for the map work and projects so you always know exactly what you are supposed to do with the masters. Bug found some of the map work to be too advanced for him, but Home School in the Woods products are easy to adapt to the child's level- they are written to the highest end of the age range, but the masters give me enough information to be able to make the product work for my younger kids too. Even Mr. Man got involved with the hands on activities and projects making this a whole family program.
In a Nutshell
I can't say enough good things about this company. We have long been Homeschool in the Woods customers, our History curriculum this year is a mash up of their Passport Middle Ages and Story of the World. I have also used their timeline figures in the past, so I knew to expect a high quality product from this company. I was not disappointed with the Great Empires Activity Study, and I feel like I can highly recommend any of Homeschool in the Woods products with confidence. They do require a great amount of printing, and I wish the files were easier to navigate, but I still find the product to be worth the price. The Great Empires Activity Study is recommended for elementary age children, and I found in my home it is flexible enough to be used in grades 1-6.
Other Crew members reviewed not only this study, but the orchestra lap book, and the 20th century lap book. Click on over to the crew blog to read more about this wonderful company.

Pricing Information
The Great Empires Activity Study is available for 18.95 for the downloadable PDF or 19.95 for the CD version.