Field Trip Adventures: Union Station and Jamba Juice
This is a sponsored post written by me on behalf of Jamba Juice. All opinions are 100% mine.
Little Miss decided to give us all a scare, and go flying off her bed this week… which resulted in a long evening spent at the emergency room and tracking down strong pain meds late at night. She broke her elbow pretty badly, and the poor thing is miserable.
Luckily, the pain killers are keeping her mostly comfortable, and most of her complaints come down to all the things she can't do on her own (go to the bathroom, buckle her seat belt, put on her boots…) which is a nightmare for a three year old in the middle of her independent phase.
Yesterday, we decided to drive into the city despite the freezing temperatures in an attempt to cheer her up with a special adventure. We headed to Union Station, which happens to have easy parking (a rarity in the city) and plenty of food choices we just don't have in my town just outside the city.
Union Station is one of DC's lesser known treasures. It opened in 1907, and has the most stunning architecture… which the kids could really care less about. What excites them are the shops and restaurants! I think a lot of people don't come up from the Metro, but they really should! At Christmas time, they put up a really cute miniature train display, and the rest of the year, it's just beautiful to see.
All the kiddos, and my lovely photographer friend's husband.
Union Station is also home to Jamba Juice , which is a treat we haven't been able to enjoy since we left for Germany almost 4 years ago. I have missed my Jamba like crazy!
Jamba has changed a bit in the last couple years, and they have some new menu options to try. The newest drinks are Fresh Squeezed Juices, which some stores are carrying as a "grab and go" ready to drink menu option. Union Station also has their traditional smoothies as grab and go option, which is really nice considering most people coming through the station are hustling to their next stop in the city.
The fresh squeezed juices are cold pressed and 100% juice, which was nice considering I was giving them to my kiddos, who really didn't need any added sugar while I tried to keep them all within arms length at the station.
The friendliest Jamba Juice staff you'll ever meet: Shamik, Shameka, and Maeshey
The staff at Jamba in Union Station were so friendly and kind to us as we tried to figure out what everyone wanted. We came in with five kids (Yes, five kids. Yes, we are crazy. Little Miss had her best friend come along too for some additional "feel better soon magic.")
They have tons of new flavors, including flavors mixing greens (you never can have too many vegetables- especially not when they are hidden in a sweet treat!) and classics like Orange Reviver (orange, apple, banana and beet based) and Triple Revitalizer (orange, banana and carrot).
I tried the Cirtus Kick, which is a mix of oranges, apples, pineapples and ginger. It's just tart enough, and spicy enough from the ginger to really wake you up on a cold day like today!
After enjoying our juice, we headed on a little walk around the station so I could see the pretty artwork and goodies in the shops. The kids loved their adventure to Jamba Juice at Union Station. It was just the distraction we needed to help Little Miss feel a bit better about her current "boo boo."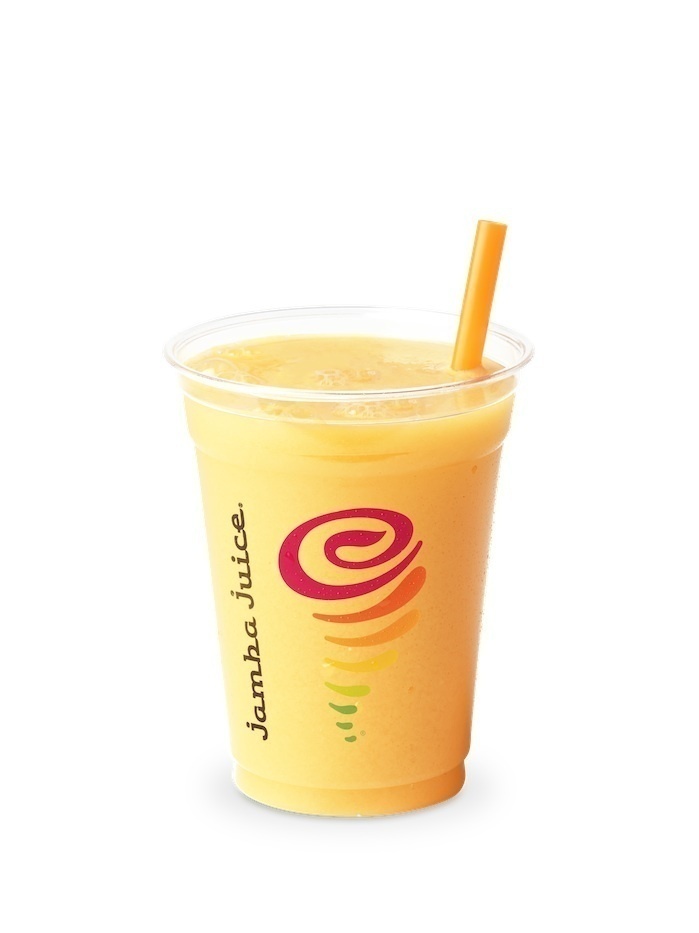 If you're a Jamba Juice fan, leave a comment here and let me know what fresh juice flavor you'd like to try! One lucky reader will win a Jamba Juice gift card (whoo hoo!). Find Your Closest Store here so you can be ready to spend your gift card if you win! Good Luck!