Schoolhouse Crew Review: Adventus MusIQ
When it comes to homeschooling, I feel like teaching music is the one subject I struggle with most. We have a digital piano in our home, and try hard to expose our children to good music. Even with all my good intentions, we weren't getting anywhere fast. I need the kids to actually learn to play the piano, not just make noise on it. I was thrilled to be given the opportunity to review Adventus' MusIQ Homeschool Program. Specifically, my children used Children's Musical Journey Volume 1, along with the Homeschool Lesson Plans and Activity Sheets. Let me start by saying the Adventus music program is amazing, and our experience with it was wonderful. This is one of those gushing reviews.

What is MusIQ Homeschool?
The MusIQ Homeschool program can be used for children in grades kindergarten to 12th grade, and includes these computer programs:
Children's Music Journey Volume 1
Children's Music Journey Volume 2
Children's Music Journey Volume 3
Beginner Level 1 Lesson Plans
Piano Suite Premier
Ear Training Coach 1&2
Ear Training Coach 3&4
If you purchase each program individually, you also receive Homeschool Lesson Plans to help you implement the computer software, as well as learn more about music history, theory, and improvisation outside of the computer lesson. (lesson plans not included with the all-level subscription plan- see pricing information below for more details).
The MusIQ Homeschool program incorporates music theory with music history in a fun and engaging way. It takes 45-60 minutes to complete a weekly lesson (Adventus recommends doing 1-2 lessons a week, and practicing daily) using the Lesson Plans, Computer Software and Activity pages.
In order to use MusIQ, you'll need a keyboard that can be connected to the computer, either by USB cable or MIDI. When you purchase the program, you'll need to download the program file and the lesson plans, and then install them to your computer.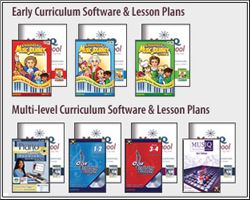 Our Experience
I was so excited to receive this product, so we dug right into Children's Music Journey Volume 1, which is the first program in Adventus MusIQ Homeschool Program. Downloading the file took a while on our slow internet, and the kids and I anxiously waited to get it installed on the computer. Installing it did take some effort, and reading of the fine print. You need to get the computer and the keyboard "talking" but Adventus has wonderful tech support who was able to get me up and running in no time.
When you first open the program, you're taken to a sign in screen where you can register multiple children to use the software at their own pace.
The opening screen has 5 options for the child:
The Lesson Room: The lesson room is where the composer teaches the child. The lesson opens with the composer sharing a sample of one of their songs, and some information about their song and their life. Bug loves listening to the songs, and is able to remember the names of the songs and composers when he hears them played elsewhere. The composer introduces the child to new skills and reviews what was done in the last practice session. The composers change every 5 lessons, so the child is introduced to a large variety of songs.
The Practice Room: In the practice room, the teacher reviews what was taught in the Lesson Room by the composer, and gives the child more practice. I feel like this is the room where Bug makes the most improvement in skills, because it gives him many ways to review topics he struggles with. (Poor Bug struggles with Rhythm- this room lets him practice it over and over again!)
The Improvisation Room: This is Bug's favorite room to hang out in. There are a variety of "instruments" the child can choose to play, and they can record their own songs and play them back. There is also an option to play along with a piece of music.
The Game Room: This room has many fun games that practice important skills, like finding middle C, recognizing high and low notes, holding notes, and rhythm. For now, Bug only has 4 games unlocked, but there are many more games waiting for him. He loves checking after the lesson to see if he earned anything new to play.
The Library: In the Library, the child can listen more to the songs introduced in the Lesson room, learn new songs, listen to the recordings they made in the Improvisation room, and take past lessons again. This room is never Bug's first choice, but I think it is MY favorite room for him to spend time in, because there is so much information and it allows him to review past songs and listen more to great music.
The way the program teaches reading music is really unique and effective. When he first started learning notes, high and low notes were represented pictorially with an ocean scene, with a bird representing high notes above the water, and a whale representing low notes blow the water. Soon, they added in a boat on the water, which was middle C. Soon, these images were replaced with notes, with Middle C being shown on the staff. I love seeing Bug learn to actually READ music, and feel like he is making so much progress. He can already tell me exactly where Middle C is on the keyboard, and is able to follow "songs" shown on the computer screen.
I love how the program adapts to Bug as well. As he plays, he gets immediate feedback. If he is asked to play a note, and misses it, the "teachers" on the program tell him to try again and give him more practice. This immediate feedback ensures that he is really learning and "getting it" before moving on.
The lesson plans really helped me get involved with the program. Often with online subscriptions I let Bug work independently with the program, which doesn't always get me the best results. These lesson plans give an overview of what was taught on the computer, and then gave me more history information to review, suggestions for practicing skills (like clapping rhythms or practicing finger movement). I feel like using the lesson plans were a huge part of why this program was successful for my family.
Today, I watched Bug work at the computer, and I am blown away that not only is he reading music, he is playing with both hands, with proper posture and finger placement. This is the first piano program I have seen that I can honestly say it's a solid, at home option in place of private piano lessons. Especially with the aid of the lesson plans, I can teach him rhythms, technique, and music history and appreciation while enforcing what he learned with the computer program. I plan on keeping him working with this program as long as possible.
Our entire family has come to enjoy and use the keyboard more!
In a Nutshell
Children's Musical Journey Volume 1 is for children ages 4-8, but I feel like it would be appropriate for older beginners as well. I highly recommend this program to anyone wanting to bring music into their home. I can't believe how thorough it is, and how much the kids love using it. I have penciled this program into our educational plan for the foreseeable future. This is the best homeschool music program I have ever seen.

My fellow Crew Mates have also been using the MusIQ program's various products, there is something for every age range, so if you're looking for a program for older children, head on over to the crew page to read more about other Adventus Music programs.
To Purchase, and Try Before you Buy: Adventus can be purchased in a few different formats. You can buy individual products, bundles of levels (and compatible keyboards), or an online subscription. For multiple children working at different levels, the online subscription is the best value. With the subscription, you get access to ALL the Adventus MusIQ programs for 10.95 a month (lesson plans not included with the subscription plan, but can be purchased separately for 29.99). You can try it for free for 7 days if you want to give the program a test run. I don't think you'll be disappointed!
Children's Music Journey 1, shown in this review is 89.95 for the program and lesson plan.
A bundle of ALL levels, with a Keyboard would run you 489.95, and constitutes a full K-12 music program.